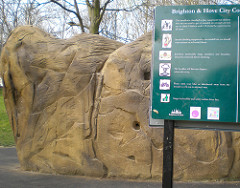 Bouldering in Hove Park
Originally uploaded by Jane Dallaway.
Since Jim broke his wrist, I haven't been to the climbing wall, and I've missed it. A couple of weeks ago I stumbled across information that there is a boulder park in Hove Park, and so today we went for a cycle ride to take a look.
It is about 3 metres high and probably about 12 metres long with areas ranging from scramble, to slight overhangs. We spent half an hour there climbing, traversing and doing the odd scramble. I am really impressed to have something like this so close, and available for free. I'm hoping to start visiting on a weekly basis to have a play.