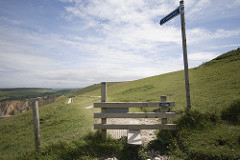 Stile
Originally uploaded by Jane Dallaway
Last weekend Richard and I headed over to the Isle of Wight for the weekend. I'd never been before, and Richard doesn't think he has been either.
We based ourselves at the Godshill Park Farm B&B, a lovely, relaxing place a short (10 minutes or so) walk from the pretty village of Godshill and its many eateries.
We spent Saturday mainly along the South Coast – concentrating on the New and Old Batteries at the Needles, as well as various bays along the way. We spent Sunday around the West Coast up to Cowes, ending up at Sandown, and then spent Monday on the East Coast up to Ryde and ending up on the ferry.
A really lovely weekend, and a feeling of England in the 1970s. We're hoping to head off over again, maybe without the car next time, as the Island line train service combined with a plentiful bus service and the myriad of public footpaths make the island very accessible.
There are plenty more photos