Previously on "Jane on the radio"… we'd discovered a recording of Jane's christening. Now we have the photos to go with it: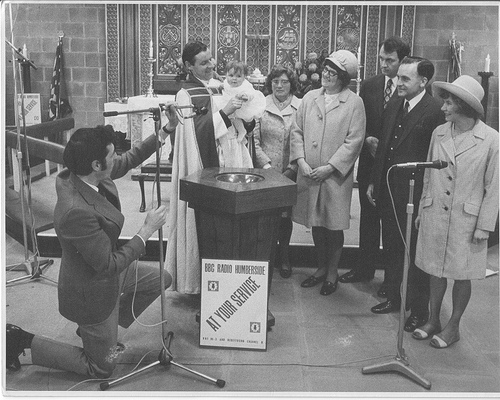 The write-up in Ariel, the BBC internal magazine, said:
Baby Jane made a name for herself last month when her Christening service was broadcast on Radio Humberside.  The Christening, at St Nicholas Parish Church, Hull, coincided with the time of Humberside's regular Sunday morning United Acts of Worship.
It came as a happy surprise when the Vicar told Humberside staff: "We are doing a Christening this morning. Do you mind?" Humberside Station Manager John Cordeaux was delighted. And baby Jane Fothergill was the ideal 'star' — well behaved, but making just enough baby noises to make her presence felt.
In the picture, Engineer Garry Heeley is adjusting the microphone at the font with Miss Fothergill about to be given her name by the Rev Christopher Hawthorne.