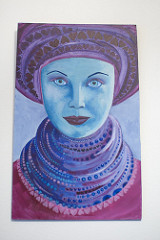 Valentine by Sioux Hurman
Originally uploaded by Jane Dallaway
I bought my first ever open house art purchase during this years Brighton Festival.
She is called Valentine and was painted by Sioux Hurman.
I spotted this picture the day I first visited the Shadow Box Open House in Tidy Street. She is just so vivid and eye catching. I dragged Richard back with me the following week, just to make sure he didn't hate it and that if I bought it, I could have it on display and not tucked away at the back of a cupboard somewhere…
He approved, I bought her and on Sunday I collected her, and brought her home. She is now happily hanging on the wall in our hallway.