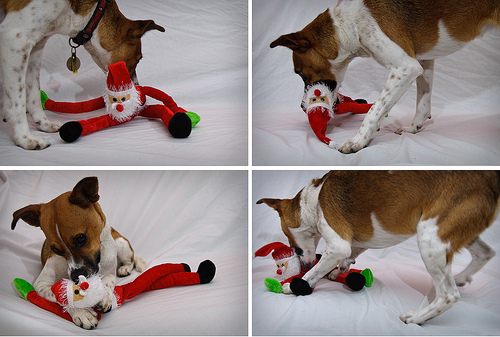 Composite of all 4 of the Christmas Skitters photos, originally uploaded by Jane Dallaway.
Just a quick pre Christmas post to wish you all a very Merry Christmas and a Happy New Year.
2009 was the year that we finally got a dog, the lovely Skitters joined us 9 months ago from Shoreham Dogs Trust. Obviously, we think she's the cutest dog in the country, and that everyone should own a picture of her.
So, we armed her with a plush santa toy (which miraculously is still in one piece), covered the sofa in a sheet, and I practiced my off-camera flash techniques learnt at my Garage Studios Flash course to produce 4 photos that we were happy with. A quick upload to the lovely people at Moo and a few days later I collected 75 lovely Christmas cards from the post office.
This photo, the composite, was used as the rear image, with the front showing a full size version of one of the individual photos. So, if you got one of these cards, I hope you liked it, if you didn't, well, erm, sorry about that…