This was the fifth and final place we stayed on our BigTrip.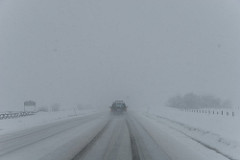 The drive from Big Sky to Jackson took us past the incredible Yellowstone National Park – if our drive had been shorter, and it hadn't been snowing, we'd have popped in to the park to take a look – maybe next time! Our accommodation in Jackson was at the Elk Country Inn, a reasonably well equipped log cabin within an easy, if cold (-20 deg C) walk of the many restaurants and shops.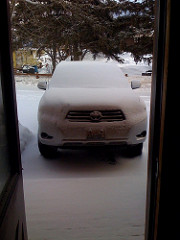 Our first stop was Jackson Hole, a resort we've heard a lot about, but which we found somewhat disappointing. Yes, it was steep, but that was about it. No tree runs like we'd found at Moonlight, it was busy – even when it snowed it got tracked out really quickly, and I think we'd been totally spoilt by Montana. But we still had fun on our 2 days, and celebrated Richard's 40th birthday there.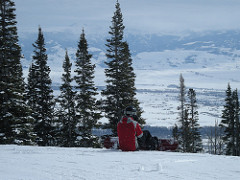 The next day we headed off to Grand Targhee, in deep, fresh, powder, with really limited visibility. I wasn't feeling great, and so we only managed a half day, but we had some great fun playing amongst the trees with almost no idea what runs we were on, and where we were heading for. After a day off for me to attempt a recovery, we returned to Grand Targhee, on a day when we could see and managed a couple of runs before I had to retire ill. It was a very different experience the second day, and we realised that Grand Targhee isn't a very big hill, but it gets a huge amount of snow.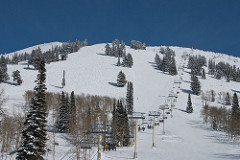 Wyoming was a bit of a disappointment – we'd expected Jackson to be amazing – it was the last stop on our trip because we wanted to improve so we were good enough to appreciate it based on it's reputation. Maybe we didn't reach a high enough level, or maybe we peaked at Montana and learnt more about what makes the perfect snowboard resort for us, but Wyoming wasn't the amazing final stop we'd planned.
From my sportstracker log in Wyoming we did:
2nd Mar – Jackson Hole – 23.64
3rd Mar – Jackson Hole – 23.61
4th Mar – Grand Targhee – 11.43
6th Mar – Grand Targhee – 5.55 – a token gesture as I wasn't well, but couldn't leave without a return to Targhee
A total for Wyoming of 64.23 miles.