This was the first place we stayed on our BigTrip
We'd done a lot of internet research on Oregon, and spent quite a lot of time looking for a log cabin to stay in. Eventually we found Pappy's cabin, in Welches, and we based ourselves there for a week.


The cabin is on the banks of the river, and is down what is little more than a dirt track so was totally peaceful and a great place to relax. It is a short drive to 3 ski resorts—Timberline, Mount Hood Meadows and Mount Hood Skibowl—and we visited them all during our week, as well as having a day off to investigate nearby Portland. It was lovely coming back each night to a well equipped cabin with a cozy wood-burning stove.
We even had fresh snow on our first day.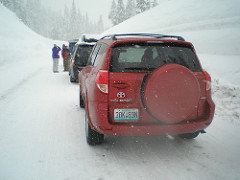 Our favourite resorts were Timberline and Mount Hood Skibowl: Timberline, as its name suggests, has lots of trees and I love snowboarding through tree runs, and Skibowl has night skiing, lots and lots of it and snowboarding at night in fresh snow was great fun.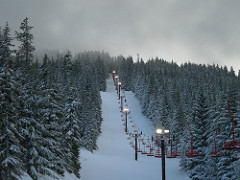 A great week, and a place I'd love to return to sometime.
From my sportstracker log in Oregon we did:
8th Feb – Timberline – 15.95 miles
9th Feb – Mount Hood Meadows – 23.68 miles
10th Feb – Mount Hood Meadows – 16.38 miles
12th Feb – Timberline – 33.84 miles
13th Feb – Mount Hood SkiBowl – 22.23 miles
A total for Oregon of 112.08 miles.