On Tuesday evening Richard and I headed off to the Hotel du Vin for our first Geek Wine thing in quite some time. This one was the second of the new format Geek Wine Things, now being organised and orchestrated by Fergus De Wit and James Reina from Majestic Wine.
There were 8 wines for tasting, 4 white and 4 red, made up of 4 classics and 4 bright young things.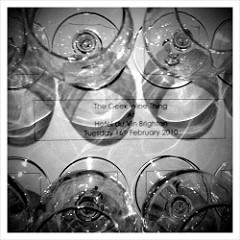 It was a great evening, and as when in the Hunter Valley recently, I made a series of notes. These are made up of "wine facts" and tasting notes. Some of the more useful are:
The Spanish wine system is really focussed on the aging process – so Reserva and Gran Reserva have clearly defined meanings on a bottle of Spanish wine. This isn't the case when these words are applied to many other nations wines
Good vintages for Rioja are 2001 and 2004
The younger a red wine, is the more breathing time it is likely to need
When thinking about wine and food matching, a good hint is to choose the kind of food that is served where the wine is made
If you buy a Spanish Reserva or Gran Reserva, then you're probably on to a winner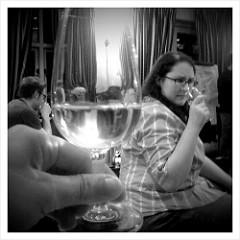 Out of the white wines, my favourite was the first we tasted. This was Albariño Martin Codax 2008 Rias Baixas. Albarino wasn't a wine that I'd knowingly tasted before, and is indigenous to that particular area of Spain. It was described as being a good halfway house between Sauvignon Blanc and Chardonnay.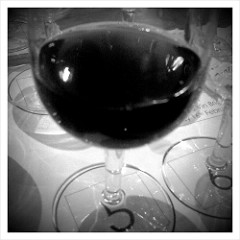 Out of the red wines, there were 2 that I really liked. These were Emilio Moro 2006 Ribera del Duero and Muriel Gran Reserva 1996. The Ribera del Duero is an up and coming wine area, and the Emilio was a lovely drink. The recommendation was to buy two bottles, drink one now and bury one in the bottom of your garden for 3 to 5 years to age further. Apparently Robert Parker gave it a score of 92 – which marks it out as being a good buy. The Muriel is ready for drinking now and was a lovely smooth wine. As Richard said, if either of these were served to us we'd be delighted.
Apparently, Majestic are running a promotion on Spanish wines next month, so I'm sure we'll be heading down there to pick up some of these for our drinking pleasure.