Last November I blogged about the dog friendliness of a couple of places we stopped on our drive from Brighton to Hull, and back again.
We did the same trip again this Easter, and stopped at 2 completely different places but using a similar strategy to last time – avoiding motorway services.
Elton
On Good Friday we stopped north of Peterborough in the village of Elton and did a 7.5km circular walk from Elton to Nassington and back. It was inspired by a walk named Elton to Yarwell and Nassington which I found when looking for walks around Peterborough.
It was a very pleasant walk, following along the Nene way for some of the walk. There were no amenities where we parked, but we drove past a pub on entry to the village though I don't know if it was dog-friendly or not.
Saffron Walden
On Easter Monday we headed down around Cambridgeshire and stopped at the pretty market town of Saffron Walden. We parked at the free long-stay car park near the football ground, and managed a 5km circular walk following the walk entitled Park and Gardens Walk, again found on the internet.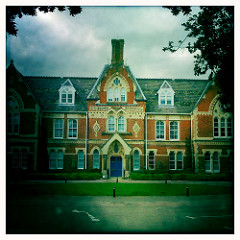 Another pleasant stroll, combining parkland and town streets. The Bridge End Gardens looked very nice but weren't dog friendly so we didn't investigate. The Audley End Park area was very pleasant and worth a stroll. We spotted a few pubs, cafes, tea rooms etc during our walk and would hope that at least one of them would be dog friendly, but we didn't stop and find out.
So, as with last time, 2 very different places and 2 very different walks. The Elton walk was more like our normal hikes around fields and countryside, whilst the Saffron Walden walk was much more town and street based.