"
Yesterday was Valentine's Day, so we treated ourselves to a meal from leapingsalmon.com. This is the "gourmet meal kit" service: you pick the meal you want, and they send you all the ingredients… all of them including little tiny bottles of olive oil, little tubs of sugar — the only ingredient we had to add ourselves was water.
Of course you can buy the ingredients and make a nice meal without help from Leaping Salmon, but it's a nice treat to have everything delivered in one package for you to prepare. Believe me, we don't usual start a mid-week meal with tatin of cherry tomatoes (mmm… yummy). We also had the roast salmon with nori and pine nut crust. All very tasty, easy and quick to make.
It even ended up looking like it was supposed to look (more or less):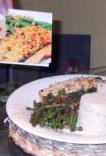 ""
The only downside is… what to do with all the packaging.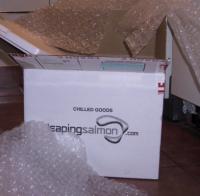 ""