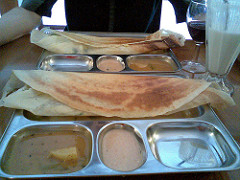 Dosa at Waves
Originally uploaded by Jane Dallaway
Many thanks to Andy for telling us about Waves in Hove. They are a Dosa Diner, and carry dosas as well as idli, pooris and other indian "street food".
We headed out there this evening and gave them a try, and we'll be back having had a most satisfying eat on dhai poori, masala dosa for me and a spring dosa for Richard. All washed down with a glass of red for Richard, and a couple of sweet lassis for me.