Further to my blog after our Performance course, I've since learnt about The Snowboard Show being held at the Tamworth snowdome in September. Amongst the demos and talks there are also some free coaching sessions, 2 of which are Freeride technique with the instructor from the Performance course, Ash Newnes. All you have to do to get on one of the sessions is to register by sending an email to the address at the bottom of this page. We've booked on to the Rail Technique session to see what we can learn.
In other news we're looking at places to go for snowboarding over New Year. In recent years we've been to Avoriaz, Meribel and Utah. Ideally we want somewhere reasonably high up to make sure that there is some chance of snow, somewhere an hour or two from the airport, and most importantly somewhere that hasn't got a minimum stay of less than 4 nights. Any suggestions? Or do you know of someone with an appartment to rent? Leave us a comment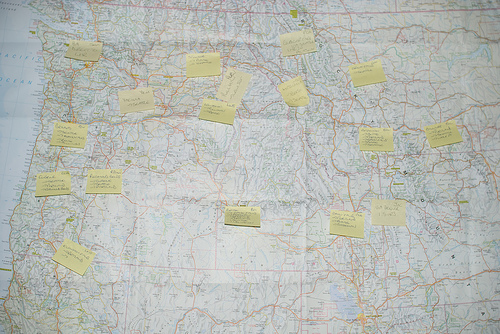 We've also started planning our big trip for next year – a month long snowboarding adventure. At the moment it is looking like being based around Montana, Idaho and Portland, and making use of the Alaska Airlines schedule to get around, but all that could change. I'm hoping that the Off the Beaten Path USA trip report will offer some more insights as the guy who wrote that had some good suggestions for our Utah trip. Again, any suggestions? leave us a comment.