One year ago today we brought Skitters home from Shoreham Dogs Trust. Over this time we've enjoyed getting to know our 4 legged friend, and building up a relationship with her, and both Richard and I were surprised at just how quickly she became one of the family and how attached we became.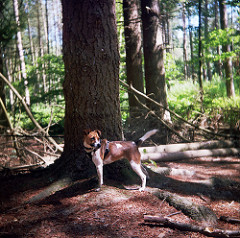 We've had 2 holidays together, one in Filey, East Yorkshire and one in Gower, Wales, both in self-catering dog friendly places. We've seen more of Sussex than in the previous 7 years discovering places like Abbots Wood, Friston Forest, the Downs Link, Lancing beach at low tide etc clocking up in excess of 1000 miles of walking each (and much more than that for Skitters).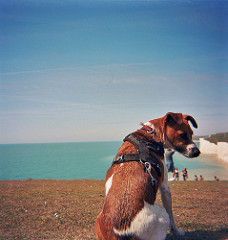 I've uploaded 314 photos of her to flickr, there are currently 400 photos of her and she even has her own camera (thanks to the Goulbourn family who bought it as a Christmas present) which she wears on some of her walks and uploads photos from to her blog.
She has generally shown herself to be a smart, affectionate dog who loves running around, playing fetch and trying to chase after rabbits. She has a problem with people coming to the house, turning into a bit of a guard dog, and never fails to bark at the postman. She also doesn't really like bearded chaps (as Danny found out one day). We have spent quite a bit of time training her, but we still have a long way to go – her recall is good in safe areas, but once she gets a sniff of rabbit, squirrel or small bird there's no way she's coming back. We also have to work on her door manners and stopping her barking at every new visitor.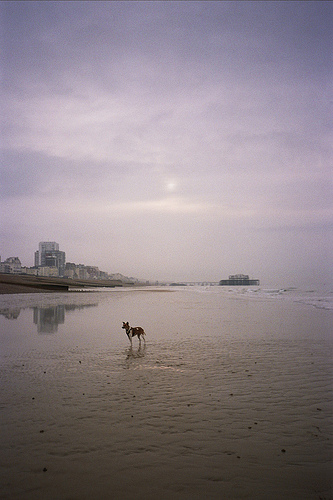 As a result of discovering the fun to be had on Brighton beach at a low tide, Richard wrote a twitter feed to show the low tides every day, which is published at 6.30am, just as we're thinking of getting up to take Skitters out for her morning walk.
It has been a great year.